Sizes & fit
Deze pagina is nog in ontwikkeling zodat we jou het beste advies kunnen geven. Mocht je nog vragen hebben of advies nodig hebben; we staan iedere (werk)dag voor je klaar en zijn erg goed in het virtueel inschatten van de juiste maat. Bij twijfel weet je ons dus te vinden.

ALGEMEEN
Onze kleding is gemaakt volgens de Noord-Europese maten. Dat houdt in dat de kleding vaak net ietsje ruimer valt dan dat je misschien zou verwachten, aangezien veel danskleding met Franse maten werkt. Onze kleding is dus wat langer, ruimer en losser. Hierdoor kan echt iedereen onze kleding dragen. Sterker nog, de fit is aan de basis altijd unisex. Hieronder hebben we per type product een iets uitgebreidere maatvoering beschreven.

SHIRTS
Onze shirts hebben een hele vriendelijke pasvorm. Daarmee bedoelen we dat onze shirts al vrij ruim van zichzelf vallen. Daarom adviseren we je aan de basis om je eigen normale confectiemaat te kiezen. Wil je écht oversized gaan, dan is één maat omhoog echt voldoende.
Hieronder hebben we een maattabel voor je gemaakt. Pak een shirt uit de kast waar jij écht heel blij mee bent qua pasvorm, leg deze plat op een plat oppervlak en pak er een meetlint bij.
Je meet eerst de lengte van het hoogste schouderpunt (naast de nekboord) naar beneden. Dit is dus de lengte. Daarna meet je de borst. De borst meet je door de afstand tussen de twee okselpunten te meten. De borstomvang is de totale ruimte die er is in het shirt rondom je borst gemeten.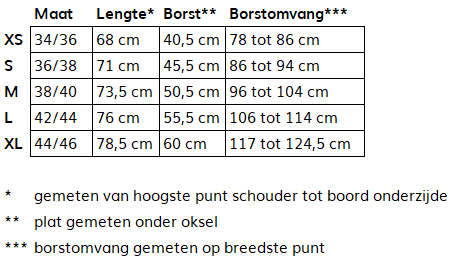 SWEATERS
Onze sweaters hebben uit zichzelf een loose fit. Ons advies is dan ook dat je bij twijfel voor de kleinste maat kiest. Tenzij je natuurlijk graag voor een oversized look gaat. Dan kan je prima een maat groter nemen, maar ga niet zomaar 2 of 3 maten omhoog. De schouders kunnen dan erg gaan hangen.
Ook voor de sweaters hebben we een maattabel die je kan helpen. Ook bij deze maattabel geldt; pak een sweater die jouw perfecte fit heeft, leg 'm plat op de tafel en meet hem na.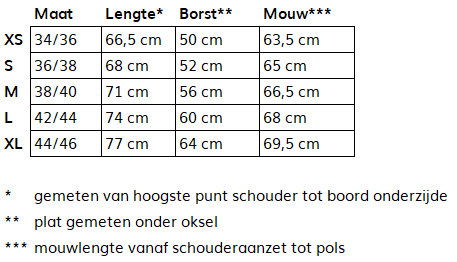 HOODIES
Onze hoodies vallen echt lekker ruim. Ze zijn oversized van zichzelf, dus je hoeft géén maat groter te nemen. Dat kan je natuurlijk wel doen als je, net als op sommige van onze foto's, voor extra extra groot gaat. Ook voor de hoodies geldt dat je met een bestaande hoodie kunt nameten door er eentje te pakken uit je kast die je goed bevalt, deze plat neer te leggen en na te meten.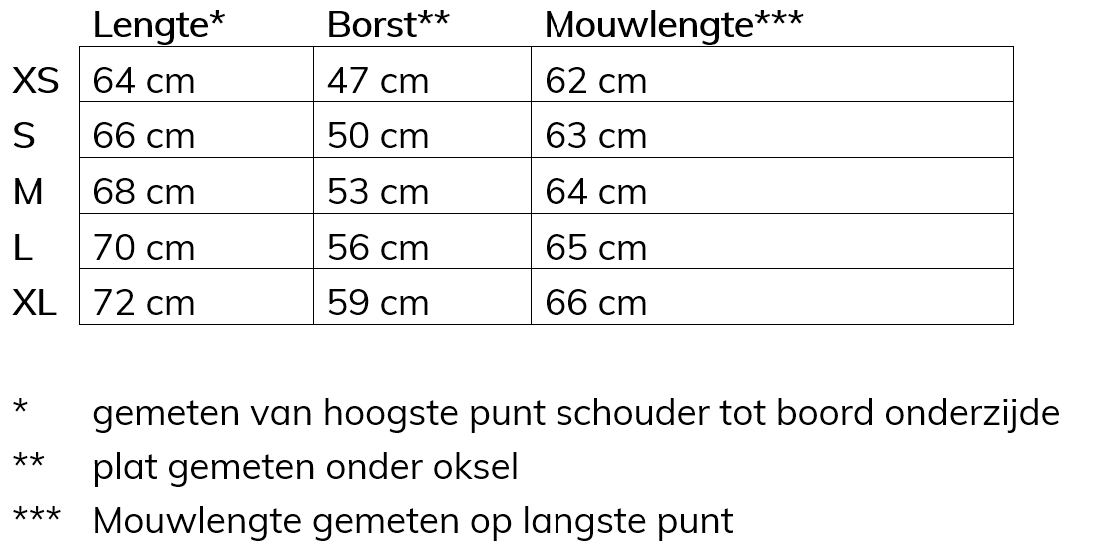 LEGGINGS
Onze leggings vallen erg goed op maat en zijn specifiek voor het vrouwenlichaam gemaakt. Onze leggings hebben, op de core legging na, een stevige tailleband die mooi moet aansluiten. Hieronder vindt je de PLAT gemeten afmetingen per maat. Twijfel, aarzel niet om ons om advies te vragen. We zitten er echt zelden naast.