This high waisted legging - with very fine & sturdy elastic - is one of the most popular items from our collection. It is made of a very sturdy fabric that offers you a lot of support and is incredibly comfortable. The ultimate dance legging.
Product description
✓ The Iconic® legging is our most loved item. It's made for dancers, by dancers. Over 1000 dancers bought them. 

Features
• Sturdy but very lightweight fabric (4-way stretch technology)
• High waist which is reinforced with a comfortable elastic band
• Print is made of silicone which never tears, breaks or fades
• This legging is produced in a sustainable, ecological & fair trade way
• Made to order by hand
Sustainable & Ecologically produced
Size chart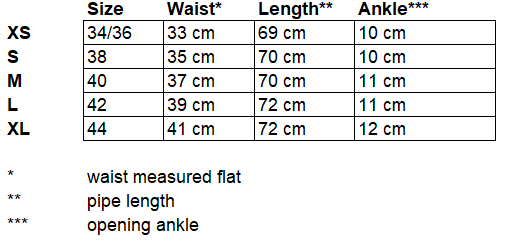 Specifications
Fabrication: 87% polyester & 13% elastane
5 stars based on 6 reviews Create your own review
Most recent reviews
02-04-2020 19:32

Cindy Zhao

De legging heeft een fijne stof, is super comfortabel en zakt ook niet af!

10-03-2020 16:09

Lara

Geweldig !! Super comfy en past goed!

10-03-2020 13:34

A.B.

Mijn favoriete legging. De hoge tailleband blijft perfect zitten (zo fijn dat 'ie niet afzakt) en ik betrap mezelf erop dat ik 'm 'vergeet' uit te trekken. Aanrader! Je geld meer dan waard!

28-06-2018 23:42

C.

Wat een geweldige legging! Ben er echt heel erg blij mee en wat is hij prachtig. Zeker een aanrader! Bedankt DforDance!

11-12-2017 18:48

Mariska

Mooie legging van top kwaliteit! volgens onze dochter danst hij heerlijk.

27-04-2017 19:16

Cynthia

Wat een geweldige legging hij zit super goed en de brede strakke band is onwijs fijn. Nu moet ik hem nog even testen in de praktijk met dansen i.v.m meivakantie maar dat moet vast goed komen!